BHL at Biodiversity Next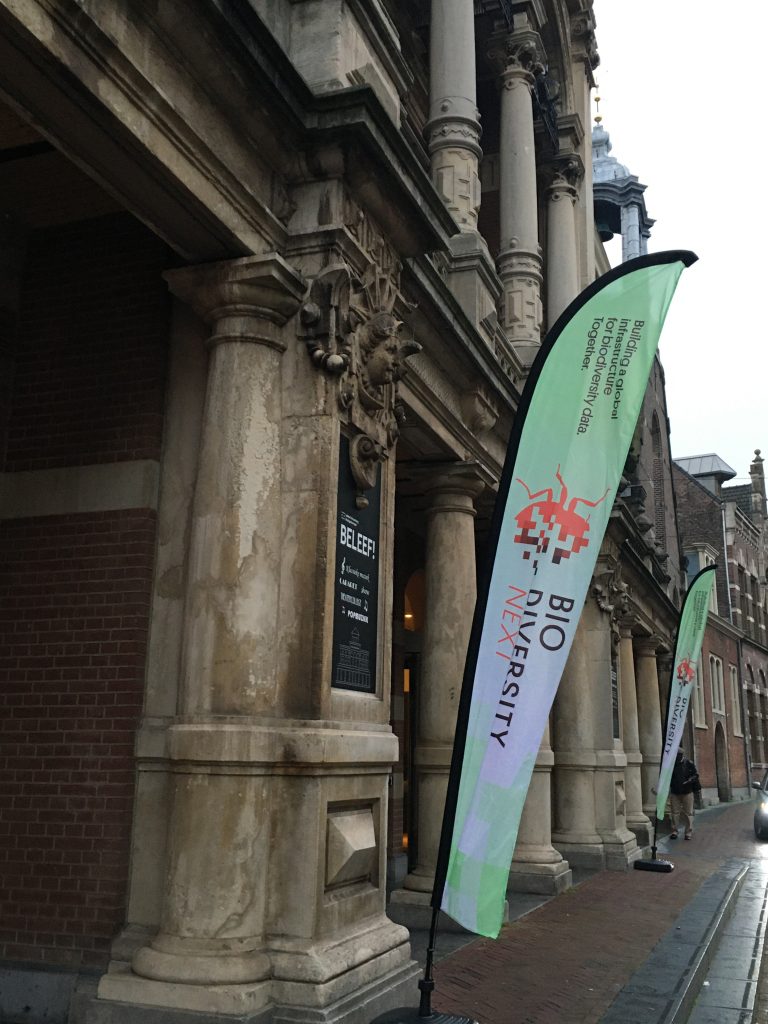 Biodiversity_Next main conference venue, Stadsgehoorzaal, in Leiden, Netherlands. Photo Credit: Grace Costantino.
In October 2019, more than 700 people from over 75 countries gathered in Leiden, the Netherlands for Biodiversity_Next, a joint conference by GBIF, DISSCo, iDigBio, CETAF, TDWG, and LifeWatch Eric. The first conference of its kind to bring together so many major international biodiversity organizations, the conference aimed to promote innovation in biodiversity and geodiversity information management and applications; encourage collaboration across these communities to enhance data standards and management practices; and foster the development of the skill sets necessary to embark on data-intensive scientific research and solutions.
Hosted by the Naturalis Biodiversity Center, a BHL Affiliate, in collaboration with the Netherlands Biodiversity Information Facility, the main conference ran from 22-25 October 2019, with pre-conference workshops occurring 20-21 October, as well as organization-specific meetings for GBIF, CETAF, and TDWG being held in conjunction with the conference.
BHL colleagues from around the world traveled to Leiden for Biodiversity_Next. Eighteen BHL-affiliated representatives from our partner community, representing 13 institutions from nine countries, attended the conference. Dr. Elycia Wallis, Engagement Manager at the Atlas of Living Australia and the BHL Member representative for BHL Australia, served as a key member of the Programme Committee.
Each conference day began with a plenary session featuring diverse speakers ranging from scientists to policy makers and even artists. From the policy perspective, Ana Maria Hernandez Salgar outlined major findings from the recent IPBESGlobal Assessment, while Jorge Soberón described efforts by the Mexican biodiversity agency CONABIO (a BHL Member) to make data useful for politicians and policy makers, and Maxwell Gomera of the UN Environment Program examined the importance of finding solutions that protect both wildlife and people and the value of using storytelling to reach policy makers in profound ways. On the science side, Paul Hebert of the International Barcode of Life Consortium described advances and ambitions in DNA barcoding and global bio-surveillance, while Carrie Seltzer spoke about the diverse and impactful ways that iNaturalist engages people in the biodiversity data system through citizen science.
The plenary sessions also brought in representatives from the world of art and design. Dutch artist Theo Jansen shared his work for the past 30 years creating "beach animals" constructed of PVC pipes that move using wind energy, while Dutch artist Jalila Essaidi described her work to create bio-art, from "bulletproof human skin" created using synthetic spider silk to clothing made from fabric produced from manure.
Beyond the plenary sessions, more than 300 speakers presented over 350 talks as part of over 60 sessions and workshops related to science, policy, standards, and infrastructure. Several major themes emerged across many of the sessions, including the importance of adopting FAIR data principles; the need to link together the many diverse biodiversity data systems; the importance of unique identifiers for data, including DOIs and ORCIDs; and the possibilities of using Wikidata as a source of and way to connect various identifiers.
BHL colleagues were very active in the conference, with 11 BHL-affiliated staff presenting or moderating 16 talks or sessions. See the full list of BHL-affiliated staff presentations at the end of this post. Additionally, members of the BHL Executive Committee (EC), including Constance Rinaldo (EC Chair, Ernst Mayr Library, Harvard University) and Martin Kalfatovic (BHL Program Director, Smithsonian Libraries), as well as colleagues from the Muséum national d'Histoire naturelle, represented BHL at the various organizational meetings, including GBIF, TDWG, and CETAF.
BHL was also highlighted frequently throughout the conference, with many talks discussing the importance of historic literature for science today, the need to integrate BHL data into other biodiversity data services like GBIF and the Catalogue of Life, and the importance of incorporating reciprocal links between BHL and these various data systems. These concepts were distinguished as a high value priority by many of the session presenters.
"Biodiversity_Next was an inspiring and exciting opportunity to hear from more than 700 colleagues representing organizations all over the world," said Constance Rinaldo, Chair of the BHL Executive Committee. "As a representative to GBIF and TDWG and by leading a symposium, I came away fully understanding the impact of collaboration among biodiversity organizations and data integration: this is the key to the future of biodiversity science."
BHL Symposium
The Biodiversity Heritage Library organized a Symposium as part of Biodiversity_Next. Entitled Improving Access to Hidden Scientific Data in the Biodiversity Heritage Library, the session featured presentations offering examples of and ideas about how BHL data can be used to empower research and how enhanced data delivery methods can facilitate real-time computing.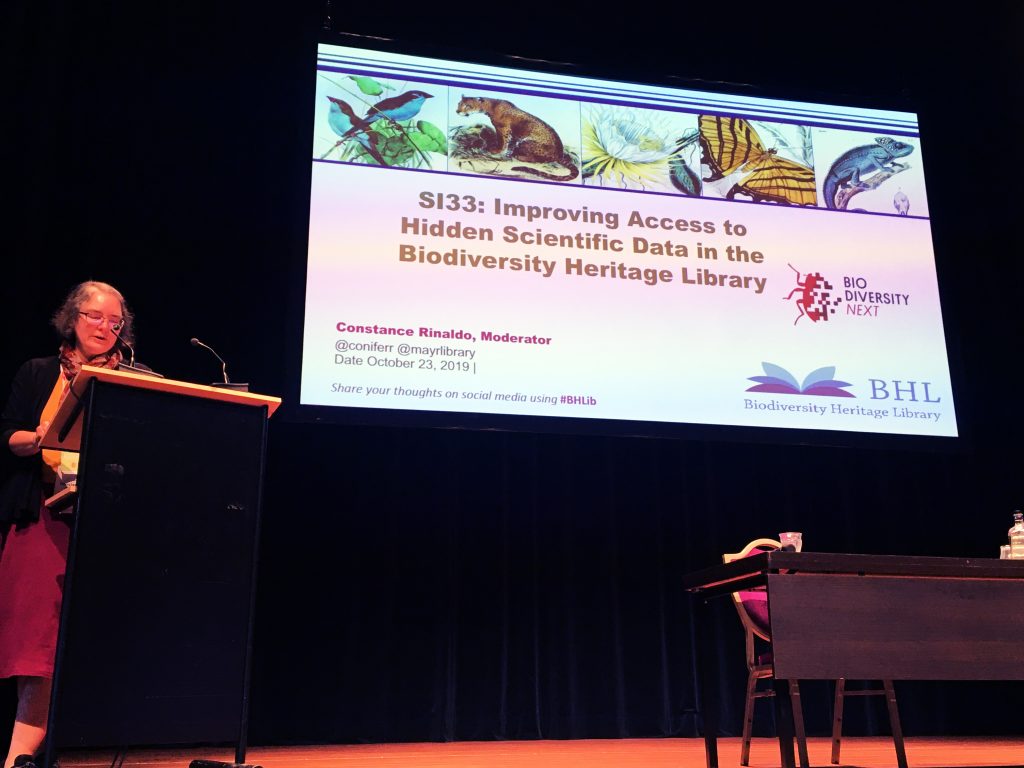 Constance Rinaldo introducing the BHL Symposium at Biodiversity_Next. Photo Credit: Grace Costantino.
The Symposium was moderated by Constance Rinaldo (Chair, BHL Executive Committee) and included the following presentations: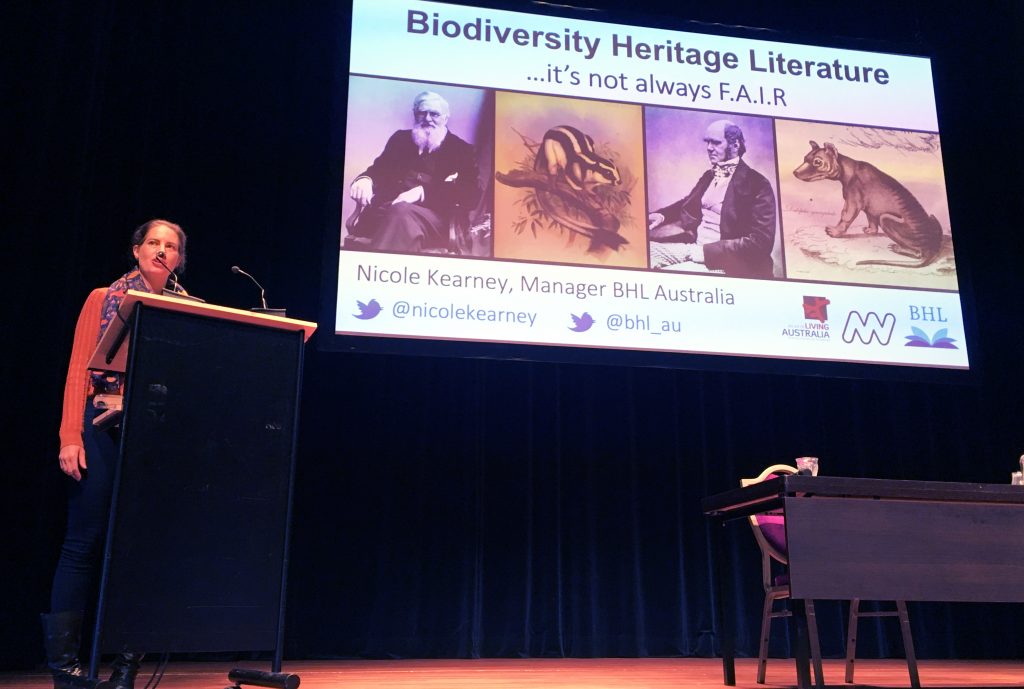 Nicole Kearney presenting during the BHL Symposium at Biodiversity_Next. Photo Credit: Grace Costantino.
Topics covered within the Symposium presentations included exploring the types of data—from scientific names and geographic localities to species treatments and specimen codes—that can be extracted from the literature; methods to extract that data, including recent work to improve the speed and effectiveness of the Global Names algorithm for identifying taxonomic names in the BHL corpus; applications for that data, including helping to inform field work; recent work by BHL to improve access to the content in its collection, including full text search and the utilization of transcriptions for archival materials; the value of linking BHL literature collections with other databases like GBIF; and the importance of and the role BHL can play in the assignment of DOIs for historic literature.
You can explore more details about each of the presentations in this @BioDivLibrary Twitter thread.
Beyond the Conference
Beyond the sessions and workshops, there were several opportunities for networking and tours around the conference.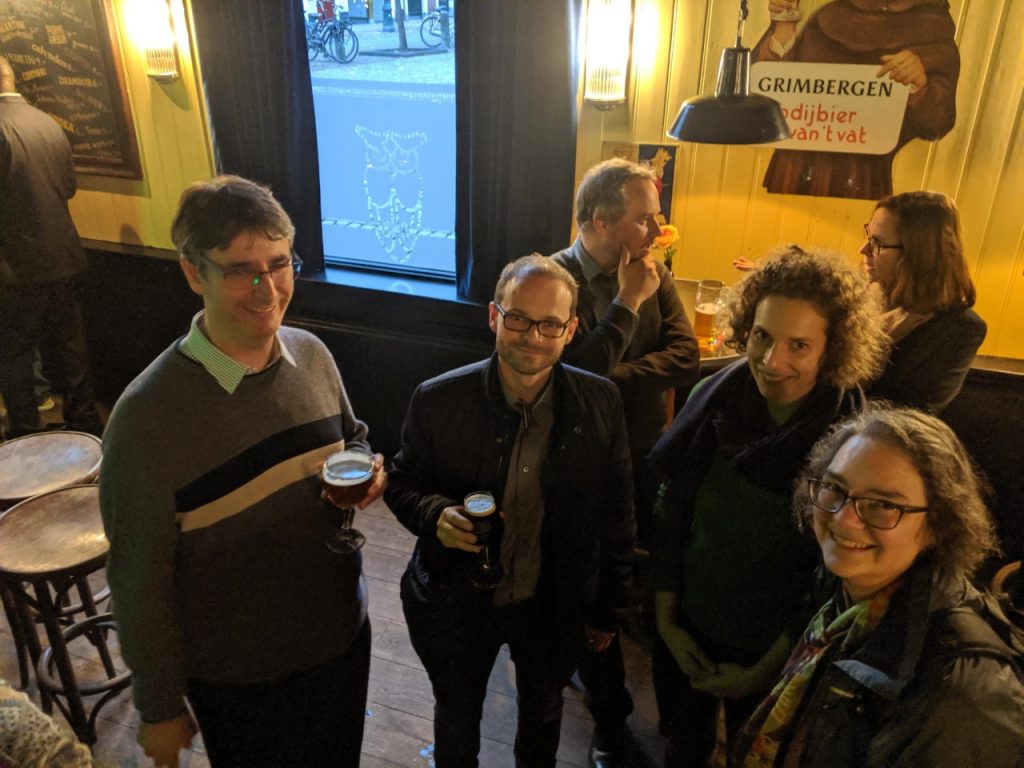 BHL colleagues gathered for the informal get-together at a local Leiden venue. Left to Right: David Iggulden (Library, Art & Archive, Royal Botanic Gardens, Kew); Clément Oury (Muséum national d'Histoire naturelle); Jiří Frank (National Museum, Prague); Chloé Besombes (Muséum national d'Histoire naturelle); Jana Hoffmann (Museum für Naturkunde Berlin); Constance Rinaldo (Ernst Mayr Library, Harvard University). Photo Credit: Martin Kalfatovic.
On Monday, 21 October, the day before the start of the main conference, BHL colleagues gathered for an informal get-together at a local Leiden venue. The gathering was an excellent opportunity for colleagues—some of which had never met in person—to connect.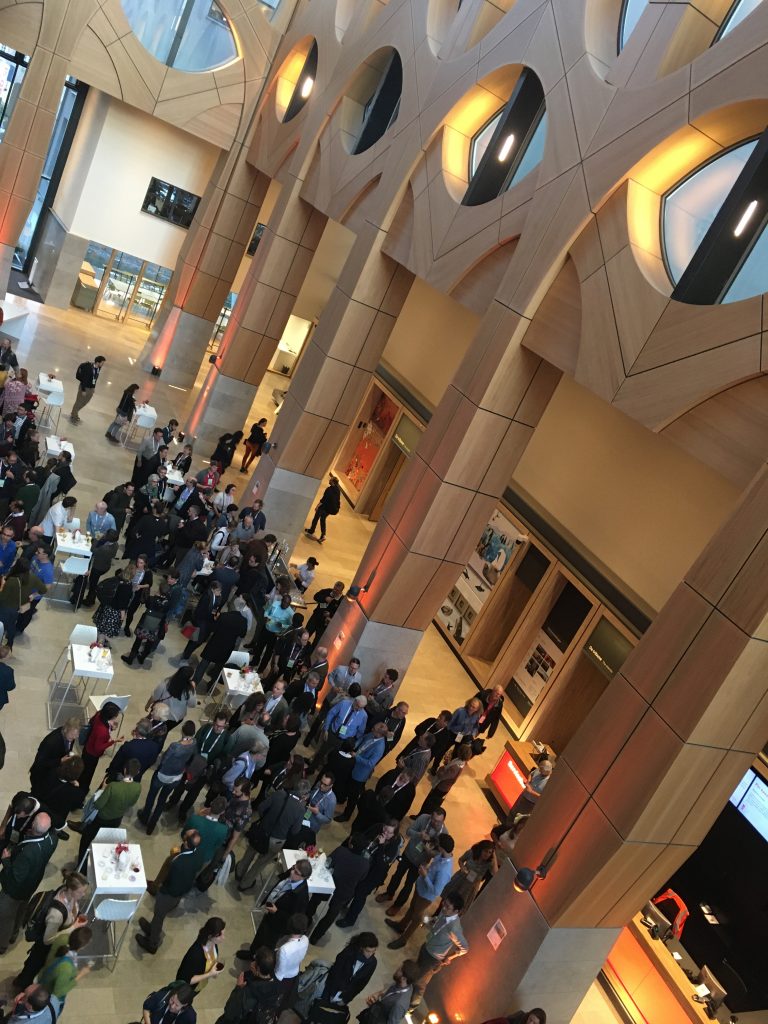 Attendees at the Biodiversity_Next reception hosted in the Naturalis Biodiversity Center. Photo Credit: Grace Costantino.
Biodiversity_Next also hosted a reception the evening of the first conference day at the newly-opened Naturalis Biodiversity Center. Hundreds of attendees had a unique opportunity to explore the museum's exhibits and network with representatives from around the world.
The Library of the Naturalis Biodiversity Center, a BHL Affiliate, also arranged tours of the general and special collections for several BHL colleagues. Godard Tweehuysen, Librarian and Information Specialist at Naturalis, showcased several special and unique items from the collection, including a copy of Les Pigeons (1808) by Coenraad Jacob Temminck (the first director of Rijksmuseum van Natuurlijke Historie—today Naturalis) with the original artwork by Pauline Courcelles and a special proofprint copy of Malacostraca Podophthalmata Brittanniae (1815-1875), which Naturalis has digitized for BHL and featured on the BHL blog.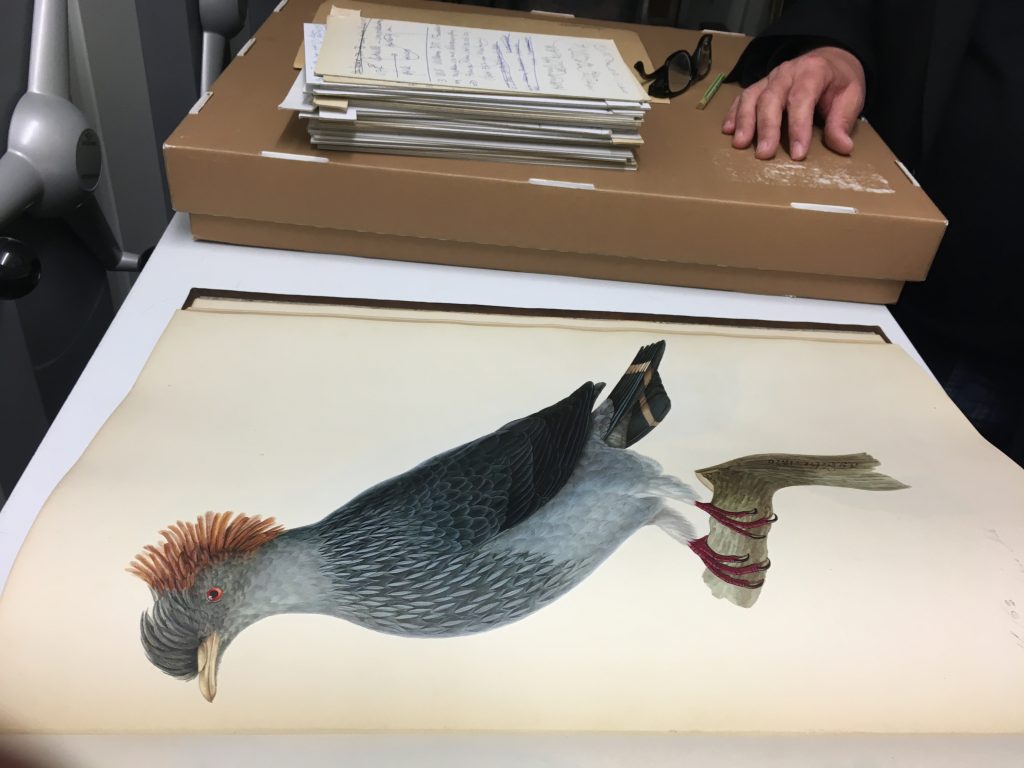 Original artwork from Les Pigeons (1808) in the Naturalis Library collection. Photo Credit: Grace Costantino.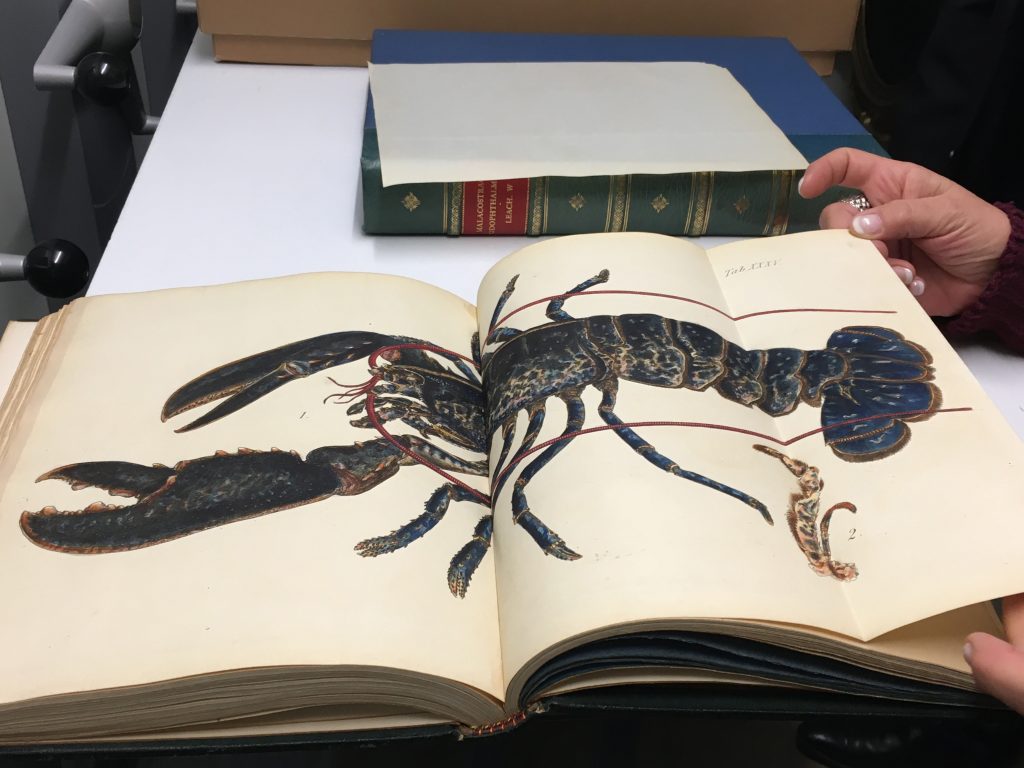 Proofprint copy of Malacostraca Podophthalmata Brittanniae (1815-1875) in the Naturalis Library collection. Photo Credit: Grace Costantino.
Looking ahead, during the Biodiversity_Next closing ceremony, conference organizers made an exciting announcement. A follow-up to the Biodiversity_Next conference will be held in Arlington, Virginia, USA in September 2020. The Biodiversity Summit is a joint meeting organized by iDigBio, GBIF, TDWG, and the Smithsonian's National Museum of Natural History. Scheduled for 20-25 September 2020, the Summit will be an excellent opportunity to reconnect, continue the momentum fueled by Biodiversity_Next, and further strengthen collaborations to advance biodiversity information science and offer real, innovative, and attainable solutions to tackle today's climate and environmental challenges.
We were privileged to be a part of such an exciting, constructive, and collaborative opportunity as Biodiversity_Next and look forward to coming together again in 2020 for the Biodiversity Summit! Until then, we'll continue to work with the biodiversity community to incorporate data from the literature into the broader network of systems and services supporting the work of researchers, policy makers, citizen scientists and beyond.
Presentations and Moderated Sessions by BHL-Affiliated Staff from BHL Consortium Institutions